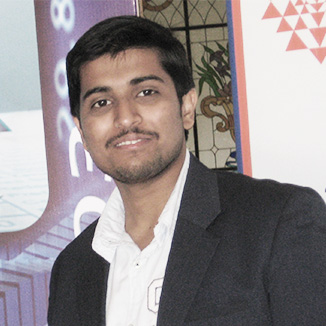 Rajat Shahi ~ Intellogi
Entrepreneurship is all about patience and dedication.
"Nobody talks of entrepreneurship as survival, but that's exactly what it is . . ."
If you have these two qualities then no-one can stop you from being successful.
This is what Rajat replied to our team when we asked him his views on Entrepreneurship and about himself and his ambitions
What's your company about? What do you do? 
Intellogi is a service based company based in Hyderabad, having worldwide reach.
We provide the following services:
Training/workshops
Mobile apps (ios, Android, windows, etc.)
Web Design/Development
Digital Marketing (SEO/SMO, etc.)
Branding (logo, video, etc.)
Event Management
We have done projects for 3+ countries
What's the greatest thing about your company? Why is it better than the competition?
No one can match our customer satisfaction because we provide the best quality as compared to any of our competitors. We believe in word of mouth marketing, we get most of our customers because of this. We also make a lifelong relationship with our customers.
We are 24/7 available for our customers.
Moreover we don't believe in recruiting experienced people, we recruit young and energetic guys who share the same mind-set as ours and work towards a common goal.
How many people did you start the company with and how many people work for you now?
We started the company with 2 co-founders
1. Rajat Shahi (Non-Tech)
2. Prashanth Vishwanath (Tech)
Now we are having 3+ core people and 5+ interns
Total 10+ people work at Intellogi.
A lot of people have big ideas. What gave you the confidence to actually go after yours?
Lot of people have big ideas but they are afraid of failure, I am never afraid of failure because I know my capability, I know that if I fall today I have the guts and courage to get up on my own and start working.
"You were born to win, but to be a winner,
you must plan to win, prepare to win, and expect to win"
How do you picture your company in 5 years?
I think within next 9 months we will breakeven, have over 50 employees and we are also thinking to open our branches at Bangalore, Delhi, USA and Sweden.
In next 5 years we are looking to launch some kickass products and becoming an MNC and having customers in more than 80 countries.
How'd you fund this venture? VC? Self-funding? Crowd funded?
As of now we are self-funded (bootstrapping), but we are getting offers from some angel investors which we are looking forward to.
What other advice do you have for other entrepreneurs struggling to get started?It's not about ideas. It's about making ideas happen. There's nothing wrong with staying small. You can do big things with a small team, get five or six of your smartest friends in a room and ask them to rate your idea. It's not that we need new ideas, but we need to stop having old ideas.
Do you consider yourself a successful entrepreneur? If not, what'll make you feel successful?
Yes I consider myself as a successful entrepreneur, as being a successful entrepreneur doesn't mean having a fancy car, big home, bank balance etc. It's about making a mark and sustaining/surviving in the ecosystem.
"He who laughs last, laughs longest"
What made you motivated to join the entrepreneurship community?
One of my advisor Mr. Pradeep Kumar Singh who is also my uncle, an entrepreneur and an M.Tech from IIT-B was here at Hyderabad for a business meeting. He said one line to his client and that line affected me so much, that I decided that I am not doing a job for someone else.
The line was "I have worked with several companies at very high positions, but I was never satisfied with what I was doing, but this entrepreneurial journey is giving me that satisfaction."
So basically he, unknowingly motivated me for being an entrepreneur.
What difficulties do student startups face generally?
First and foremost is enthusiasm, secondly the resources and by resources I don't mean money, as for a startup what we actually need is the cofounders putting all their efforts and resources into it. So if the college is supporting the students with their venture it is much easier for the entrepreneur to work towards his dream.
What will be your advice for new startups?
Don't try to make money, try to be good enough… money will follow. Try to get good mentors/advisors. And network as much as you can.
To learn more about Rajat visit rajatshahi.com or connect to him on facebook.com/imrajat